Easy Member Section
Members can now easily track downloads! Your account will hold your previous downloads in case you need to download again.
Uncle Rick Audio Book Club
Uncle Rick makes it easy to build a digital audio library of trusted books. Monthly downloads can be copied to your device for easy access and listening.
Do I need a membership to purchase audios? NO. You may purchase any audio at full price!
I'm a previous member, do I still have a login? How can I purchase? Yes, you may use your previous login. Once logged in, navigate to My Account. In the right side menu, there is a link to purchase the subscription – Uncle Rick Monthly Membership. Screenshot image: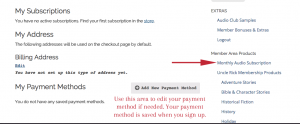 How Does the Membership Work? The new membership area is a member only store. All links to everything you need are on your MY ACCOUNT page. Coupons are immediately applied when you click the link from the coupon email to login, which takes you to the MY ACCOUNT page.